Good signals for Vietnam's seafood exports in 2021
Despite pandemic, Vietnam's Ministry of Agriculture and Rural Development has set 2021 seafood export target at $9 billion, an increase of 6 percent compared to estimated achievement in 2020.
Update: (2/24/2021)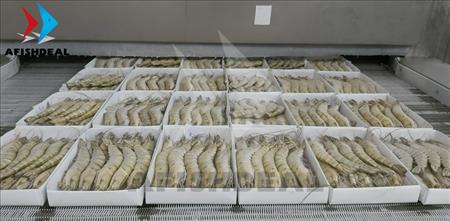 The ministry estimated 2020 seafood export at $8.5 billion, an unchanged amount from 2019.
In the first half of 2020, seafood exports fell due to the COVID-19 pandemic, according to the Association of Seafood Exporters and Producers.
However, situation recovered from July and saw double-digit growth since September, thanks to the steady growth of shrimp exports and positive signs of seafood products since August, said the association.
After an increase of 10 percent in September, 12 percent in October, November seafood export continued to grow 13 percent compared to the same period in 2019.
Shrimp exports grew double digits of 25 percent in September and October, and continued to increase by 28 percent in November to reach $395 million.
As of end-November, shrimp exports reached about $3.5 billion, up 14 percent over the same period in 2019. Shrimp exports in 2020 are expected to reach over $3.85 billion, up 15 percent from 2019.
Pangasius exports fell sharply from March to September with a decrease of 17 percent and 35 percent over the same period in 2019.
Source: e.nhipcaudautu.vn