Pangasius export in 2019 is estimated to reach US$ 2.3 billion
Continuing the record turnover in 2018, Pangasius catfish export is expected to have many advantages and positives to hit the target of US$ 2.3 billion
Update: (3/11/2019)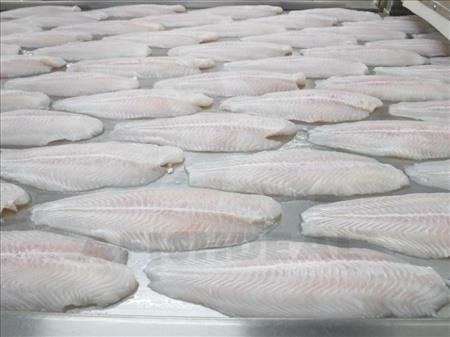 Start from the United States, EU
Vietnam is currently the largest pangasius catfish exporting country in the world. According to the Ministry of Agriculture and Rural Development, in 2018, pangasius export turnover reached a record of 2.26 billion USD, up 26.4% compared to 2017.
Ms To Thi Truong Lan - Deputy Secretary General of Vietnam Association of Seafood Exporters and Producers (VASEP) said: Pangasius exports in 2018 achieved the highest level of turnover in recent years. When accounting for this, especially when considering pangasius is not in season, the reason is that the selling price has been very high. In particular, 2018 has been a year with successful and effective coordination among ministries. Specifically, because of the Ministry of Agriculture and Rural Development, Ministry of Industry and Trade, and VASEP, in implementing the US Catfish Inspection Program, promoting trade to key markets such as Japan, China and the Middle East region ... Notably, this is due to the above ministries endeavours, and the United States has returned to its position as the No. 1 export market of Vietnamese pangasius, contributing greatly to the success of the industry.
In 2019, VASEP forecasted that pangasius export turnover will remain at 2.2-2.3 billion USD. Some experts say this number is quite possible because of the positive impact of the US-China trade war on pangasius industry as demand increases in China due to imposed trade barriers by the United States. Besides, when the Vietnam - EU Free Trade Agreement (EVFTA) was signed and enforced, the import tax on pangasius to the European Union (EU) will be reduced from 5.5% to 0% in 3 years, (with raw catfish); from 7% to 0% in 7 years (with processed pangasius). This creates a great opportunity for pangasius export enterprises to boost production and product export value.
Regarding the above issue, the 2019 strategic analysis report of Viet Rong Securities Joint Stock Company (VDSC) stated: The Mekong Delta region has favorable ecological conditions for large-scale Pangasius farming. Besides, advanced farming technology for white meat pangasius products is a favorite choice of consumers. Another consideration is that other countries like India, Bangladesh, Thailand and Indonesia, are producing low value yellow pangasius, and the volume is only enough to meet their domestic demand.
Meanwhile, barriers in the US market have also decreased. Vietnam has passed US Department of Agriculture (USDA) field tests, with the most important step in the initial assessment process established by the US Food Safety and Inspection Agency (directly under USDA). In addition, the preliminary anti-dumping tax on pangasius during the 14th administrative review period (POR 14) is significantly lower than that of POR 13. Therefore, the volume of exporting pangasius to the US market may increase sharply in 2019
Promote deep processing
Although it is considered that the processing and exporting of pangasius has many advantages in 2019, but according to Mr. Nguyen Hoai Nam - Deputy General Secretary of VASEP, the challenge for the pangasius industry is still outstanding, specifically because of the program of import control in Europe and the United States ...
According to Mr. Tran Dinh Luan, Deputy Director General of the Directorate of Fisheries (Ministry of Agriculture and Rural Development), Vietnam's pangasius processing factories meet the acknowledged standards and norms that "difficult" importing countries like the US, Japan and the EU assess. However, the goal is deep processing, making use of the remaining products by producing value-added products. "The Directorate of Fisheries is working with enterprises to build a high quality pangasius fillet brand; study and add more nutrients to the quality of pangasius fillet, and improve processing technology for better quality pangasius fillet products," said Luan.
Around the story of processing and exporting pangasius placed in the context of deep international economic integration in 2019, Ms. Lan raised the view: With seafood in general, pangasius in particular, VASEP proposed the Government and the Ministry of Industry and Trade to continue carefully with high-level diplomatic involvement and activities to remove anti-dumping barriers; support enterprises to update and improve their understanding of the export market, especially the market in the block of Comprehensive and Trans-Pacific Partnership Agreement (CPTPP) countries, and with the new legal regulations when the EVFTA Agreement is passed. "At present, Vietnam's seafood is generally present in over 160 countries. While competition is fierce and rival countries have strong investments, Vietnam's budget and investment in this industry is quite modest, so VASEP proposes to have a flexible mechanism to increase the money for trade promotion, for helping Vietnamese seafood enterprises to get closer to the final importers and consumers," Lan said.
According to the Ministry of Agriculture and Rural Development: 2018 not only displayed impressive export growth, but pangasius also recorded a remarkable growth in farming area when reaching 5,400 ha (up 3.3% compared to 2017); output of 1.42 million tons, an increase of 8.4% compared to 2017. In 2018, the fisheries sector organized the replacement of 30 thousand parent fish, enhanced breeding selection. Therefore, the quality of pangasius seed has been gradually improved, the production of hatcheries and commercial pangasius has basically controlled, and it has prevented spontaneous fish farming areas massively expanding since 2017.
Source: Customsnews