Việt Nam's pangasius fish overwhelms world market
Việt Nam's pangasius (tra fish) share accounts for 99.9% of the world market and the country will continue securing the dominant position in coming years, reported the Việt Nam Association of Seafood Exporters and Producers (VASEP).
Update: (6/2/2019)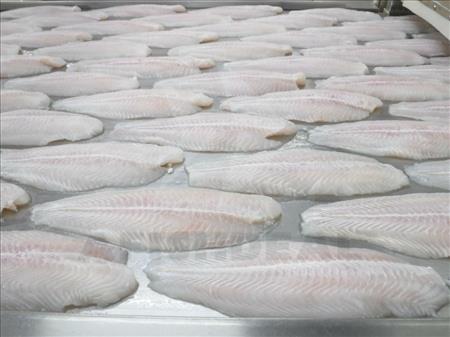 In Q1/2010, the fish export turnover reached US $320 million, up by 30% against the same period last year.
Foreign markets open wide
Pangasius export to the Russian Federation (once Việt Nam's biggest importer) that fell 66% in 2009 shows signs of recovery this year.
The fish demand of most other foreign markets all has risen, said Mr. Dương Ngọc Minh, Chief of the Executive Board for Pangasius Export to Russia. Vietnamese exporters have already received orders for Q2 from the US.
VASEP said that, among Vietnamese aquatic products, the pangasius registers the highest development pace and is widely favored in foreign markets. The fish is now Việt Nam's key export.
In recent ten years, pangasius productivity has increased by 50 times, and its export turnover grew 65 times. Now Việt Nam's tra fish share accounts for 99.9% of the world market.
Towards the status of a strong export product
To further lift the quality of this key product, the Government just approved a VND 1,340 billion project on boosting the production and distribution of pangasius in the Mekong Delta until 2020.
The Ministry of Agriculture and Rural Development planned to double the area for tra fish raising to 13,000 hectares by 2020 with the total output of nearly 2 million tons, worth of US $2 billion.
Việt Nam can even triple the current raising area alongside the Tiền and Hậu Rivers if waste water, which is discharged from raising sites, is well managed and treated.
VASEP suggested that specific regulations relating to food safety and hygiene should be adopted to realize the above project.
Local authorities need to take into consideration factors like market stability, raw input zones, and productivity when they allow investors to build or expand pangasius processing facilities, the Association said.
To fruitfully meet different criteria on quality and packing applied in over 125 import markets around the world, VASEP urged Vietnamese pangasius exporters to cement cooperation in trade activities.
VASEP also proposed stronger trade promotion activities to improve farmers' awareness of and prevent sullying words against the tra fish.
By VGP News