EC highly appreciates Vietnam's efforts to overcome IUU 'yellow card'
(seafood.vasep.com.vn) According to Mr. Nguyen Quang Hung, Deputy Director General of the Directorate of Fisheries, Ministry of Agriculture and Rural Development, through a recent online meeting with the European Commission (EC) on combating illegal, unregulated and unneported fishing (IUU), the EC continued to affirm that Vietnam has made great efforts, especially with very specific attention and direction from the Secretariat, the Government, the Prime Minister. government and ministries and sectors.
Update: (11/26/2021)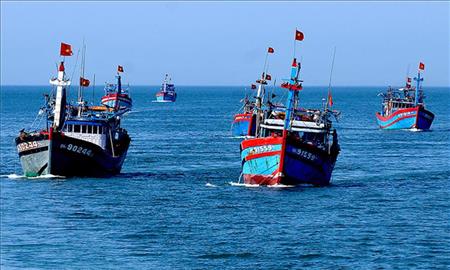 Among the four groups of EC recommendations, in legal terms, the EC highly appreciates the changes in Vietnam. Recently, the revisions in the legal framework have all been sent to the EC, basically the EC strongly agrees with the revised contents.
Regarding the management, monitoring and supervision of fishing vessels in the recent period, due to the COVID-19 epidemic, the monitoring and control of fishing vessels encountered many difficulties. The number of fishing vessels going to exploit decreased.
Notably, with the traceability group, in the past time, goods exported to the EU market have had few errors, and returned seafood products were very little compared to previous years. Vietnam is doing relatively well in this content.
Finally, with the law enforcement team, the provinces are now also very active on the basis of propaganda and guidance for fishermen.
For cases of violation or recidivism, localities also strengthen the sanction to quickly end the situation of violations in fishing, especially violations of fishing in foreign waters.
Based on the conclusion of the Prime Minister at the online meeting on combating IUU fishing taking place in early September 2021, Mr. Nguyen Quang Hung said that the Directorate of Fisheries also sent documents to 28 provinces and cities to propose propose to develop programs and plans with specific solutions for the coming period.
The goal is to end the situation of fishing vessels violating in foreign waters before December 31, 2021, so that Vietnam can remove the yellow card in 2022-2023.
The EC side expects that if the epidemic situation stabilizes, in the first quarter of 2022, the EC will go to Vietnam to check directly at fishing ports and localities about the efforts of the Vietnamese side. Since then, there are new recommendations for Vietnam's "yellow card" removal route.
Source: VASEP