Exporting Vietnam's black tiger shrimp to China and Hongkong rose by 30% in first six months of 2023
According to data from Vietnam Customs, Vietnam's shrimp exports to China & HK in the first half of this year reached US$280 million, down 16% over the same period. June is the first month since the beginning of this year Vietnam's shrimp exports to China & HK recorded an increase over the same period last year, up 16% to US$67 million. Since March of this year, the monthly rate of decline has also narrowed.
Update: (8/14/2023)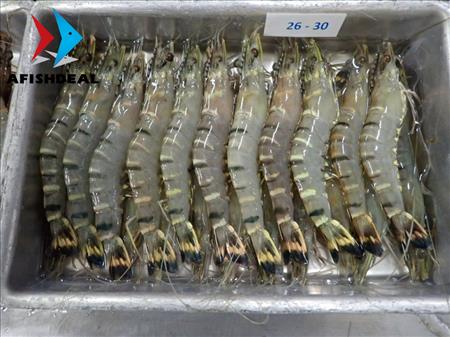 In the structure of shrimp products exported to China & HK, vannamei accounted for 54.9%, black tiger shrimp accounted for 25.3%, the rest was other shrimp. In the first 6 months of this year, the export value of whiteleg shrimp and black tiger shrimp to China & HK increased by 1% and 30% respectively over the same period in 2022. The export value of processed vannamei shrimp increased the most by 66%; Export of processed black tiger shrimp and frozen raw black tiger shrimp increased by 55% and 29%, respectively; Dried shrimp exports increased sharply by 3 digits with 583%.
China & HK mainly import frozen raw shrimp (HS code 03) from Vietnam, accounting for 97% of the proportion. In the first half of 2023, the average price of Vietnam's vannamei shrimp exported to China ranged from 4.9 to 7.9 USD/kg, and the average price of black tiger shrimp exported to this market ranged from 8.2 to 13.8 USD/kg.
According to data from China Customs, China's imports of warm water shrimp in H1 of 2023 increased by 49% year-on-year to 502,669 tons. Total import value increased 29% to 2.84 billion USD. This shows that China's shrimp demand is strong despite the slow economic recovery after the COVID-19 pandemic.
Ecuador is China's largest shrimp supplier with 362,000 tons, up 63% year-on-year. Imports from India and Argentina also have strong growth. Shrimp imports from India increased by 31% and Argentina by 270% in the first half of this year to 60,700 tons and 17,700 tons, respectively. However, the products from these sources are mainly headless, semi-processed and wild-caught red shrimp, so the price is higher than that of Ecuador.
After the Chinese government lifted the "Zero Covid-19" policy, Ecuador shrimp exports to China increased dramatically. Localities with large populations such as Guangdong, Fujian, etc are "flooded" by Ecuadorian shrimp. This put a high pressure on Vietnamese shrimp in this market.
In the H1 2023, Ecuador promotes the export of cheap inventories to China while the harvest amount will tend to decrease in the second half of the year due to adverse weather conditions. As a result, the supply of Ecuadorian shrimp to China in the latter part of the year is likely to decline while this is the time that China often has high import demand. Therefore, Vietnam's shrimp exports to China during this period are anticipated to surpass the first half of the year.
Source: VASEP